We all dream of financial independence, and with the internet, it's easier than ever to make money online. In this article, we'll explore the top 10 online earning sources that can help you achieve your financial goals. From freelance work to e-commerce, there are countless opportunities to make money online. Let's dive in!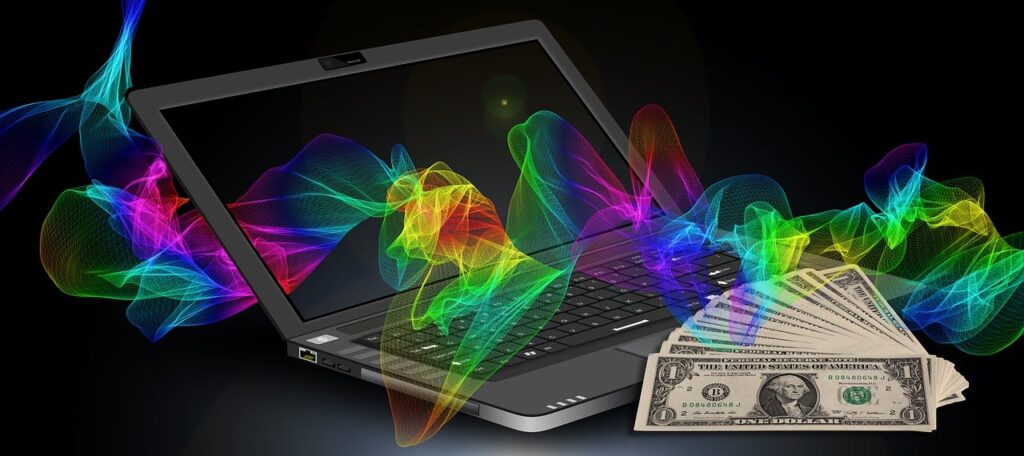 Freelance Work 1 of the online earning sources
If you have a skill or talent, there's likely someone out there who needs it. Freelancing platforms such as Upwork, Freelancer, and Fiverr connect businesses with freelancers who can provide services ranging from graphic design to programming. Freelancing is a great way to work from home and set your own schedule.
Online Surveys
Online surveys are an easy way to earn a few extra dollars in your spare time. Companies are always looking for consumer feedback, and they're willing to pay for it. Websites like Swagbucks, Survey Junkie, and Toluna pay users for completing surveys and other tasks.
Affiliate Marketing
Affiliate marketing is a performance-based marketing strategy in which an advertiser pays a commission to an affiliate for each sale or lead generated through their referral. As an affiliate, you can earn a commission by promoting products or services on your website or social media channels. Amazon Associates, ShareASale, and Commission Junction are popular affiliate marketing programs.
E-commerce
E-commerce is the buying and selling of goods and services online. With the rise of online marketplaces such as Amazon and Etsy, it's easier than ever to start your own e-commerce business. You can also create your own online store using platforms like Shopify, WooCommerce, or BigCommerce.
Online Tutoring
If you have expertise in a particular subject, online tutoring can be a lucrative way to make money. Platforms like VIPKid, Chegg, and TutorMe connect tutors with students from around the world. You can set your own hours and teach from the comfort of your own home.
Online Writing is one of the best online earning sources
Content is king on the internet, and there's a constant need for high-quality writing. If you have a talent for writing, you can make money by creating content for websites, blogs, or social media. Freelancing platforms like Upwork and Freelancer also offer writing opportunities.
Virtual Assistant
As more businesses move online, there's a growing need for virtual assistants who can handle administrative tasks from a remote location. As a virtual assistant, you can offer services like email management, data entry, and social media management. Platforms like Zirtual and Fancy Hands connect virtual assistants with clients.
Online Coaching
If you have expertise in a particular area, you can offer coaching services online. Life coaching, business coaching, and fitness coaching are all in demand. Platforms like Coach.me and BetterUp connect coaches with clients.
Investing
Investing in stocks, cryptocurrency, and other assets can be done entirely online. With platforms like Robinhood, Coinbase, and eToro, you can start investing with just a few clicks. Keep in mind that investing carries risks and you should only invest money that you can afford to lose.
Online Gaming
Believe it or not, you can make money by playing video games online. Platforms like Twitch and YouTube allow gamers to earn money through advertising, sponsorships, and donations. You can also participate in online tournaments and win cash prizes.
FAQs:
Q1. Are these online earning sources legitimate?
A1. Yes, all of the online earning sources mentioned in this article are legitimate. However, as with any opportunity, there are scams to watch out for. Do your research before signing up for any program or platform.
Q2. Can I really make a full-time income from online earning sources?
A2. It is possible to make a full-time income from some of these online earning sources, such as freelance work or e-commerce. However, it may take time and effort to build up your income stream. It's important to set realistic expectations and be prepared to put in the work.
Q3. Do I need any special skills to make money online?
A3. While some online earning sources require specific skills or expertise, there are opportunities for people with a variety of skill sets. For example, online surveys and virtual assistant work require basic computer skills, while e-commerce and online writing may require more specialized knowledge.
Q4. Are there any costs associated with making money online?
A4. Depending on the online earning source, there may be some costs associated with getting started. For example, starting an e-commerce business may require purchasing inventory or paying for website hosting. However, many online earning sources have low or no start-up costs.
Q5. How can I avoid scams when trying to make money online?
A5. To avoid scams, it's important to do your research and be cautious of any opportunity that seems too good to be true. Look for reviews or testimonials from other users, and never give out personal or financial information unless you are confident that the opportunity is legitimate. Trust your instincts and if something doesn't feel right, don't proceed.
In conclusion, there are many ways to make money online, and the opportunities are growing every day. Whether you're looking to earn a little extra cash or build a full-time income, the online world has something to offer. By exploring the top 10 online earning sources we've discussed, you can find the opportunity that's right for you and start working towards your financial goals. Remember to be cautious, do your research, and always be prepared to put in the work. Good luck!
Please follow and like us: